Witches' Legacy: Hunter and the Hunted Walkthrough 5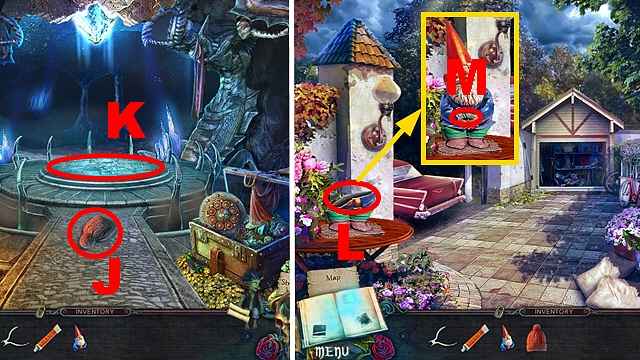 Follow our crystal clear walkthrough and helpful tricks to get you through the rough spots!
Click the button to download full walkthrough.
Take the KNITTED CAP (J).
Put down the ELIZABETH DOLL (K).
Walk down twice.
Apply the GLUE to the broken statue (L); put the BROKEN GNOME on it.
Take the FISHING LINE AND HOOK (M).
Turn left.
Give the KNITTED CAP to imp (N) to receive the WRENCH.
Collect the WITCH HUNTERS INSIGNIA with the FISHING LINE AND HOOK (O).
Remove the screw with the WRENCH (P); open the box.
Take the LILY SYMBOL (Q).
Walk down, turn right.
Place the LILY SYMBOL on the niche (R); take LYNN'S BRACELET (S).
Go downstairs.
Place the WITCH HUNTERS INSIGNIA (T) and LYNN'S BRACELET (U) on the niches.
Play the mini-game (purple).
Solution: W, X x3, V, X.
X, V x3, W, Y x2, W.
X, W, X, Y, V.
Move forward.