Witches' Legacy: Hunter and the Hunted Walkthrough 2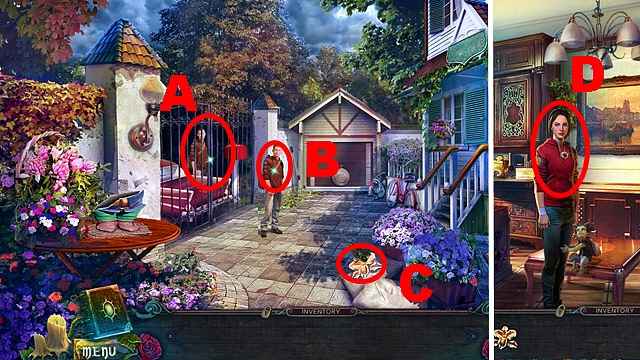 Follow our crystal clear walkthrough and helpful tricks to get you through the rough spots!
Click the button to download full walkthrough.
Open the gate (A).
Talk to the guy (B).
Take the ORCHID SYMBOL (C).
Turn right.
Talk to the woman (D).
Put the ORCHID SYMBOL into the niche (E); take the SQUEAKY TOY (F) and FLAG (G).
Walk down.
Give the SQUEAKY TOY to the animal (H); take the RED KEY (I).
Turn right.
Turn the page; put the RED KEY into the lock (J).
Take IMP (K).
Walk down.
Pull out the figurine with IMP (L); take the CARPENTER FIGURINE (M).