Whispered Secrets: Into the Beyond Walkthrough 8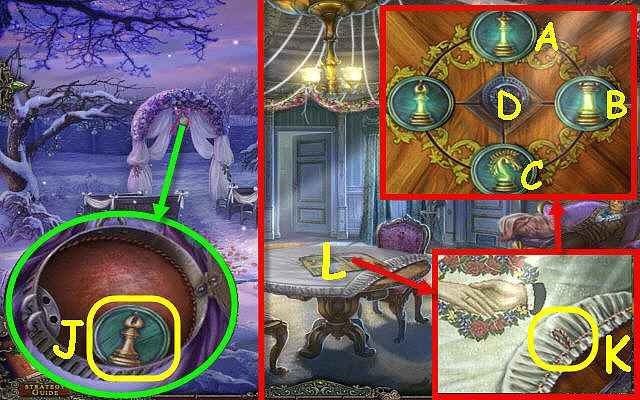 Follow our crystal clear walkthrough and helpful tricks to get you through the rough spots!
Click the button to download full walkthrough.
Place the 2 ANGEL STATUES on the container; open the lid. Take the BISHOP MEDALLION (J).
Back out twice.
Take the newspaper; use the NIPPERS on the string (K) and remove the cover.
Place the KNIGHT MEDALLION and BISHOP MEDALLION on the table to trigger a puzzle (L).
Place the medallions in their matching slots.
Select the following: C, B, A and D.
Take the MOON HANDLE.
Go left and forward.
Place the MOON HANDLE and SUN HANDLE in the slots; lift the handles to trigger a puzzle (M).
Turn the handles to the correct setting.
Turn N right 6x and left. Turn O left 3x.
Go down the opening.
Take the CAN OF GASOLINE (P).
Plug the LIGHT STRING in the socket (Q).
Back out.
Select the motor; replace the SAFETY FUSE (R). Use the FUNNEL and CAN OF GASOLINE on it (S); select it.
Go down the hatch.