Whispered Secrets: Forgotten Sins Review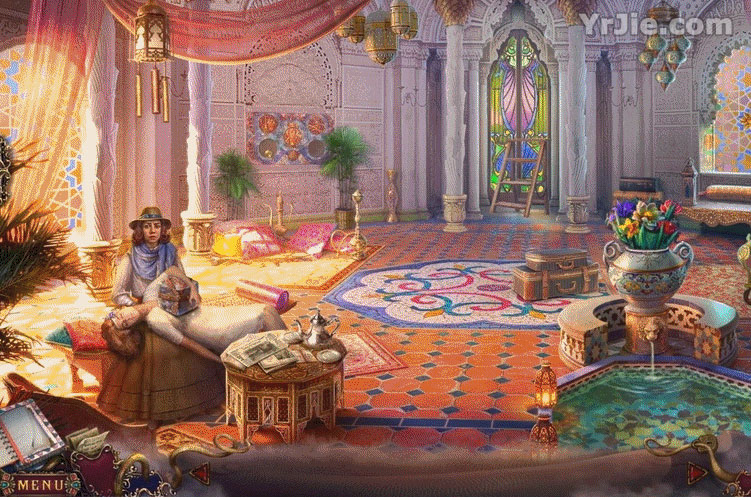 The Hidden Object Scenes are mostly Interactive List finds, the scenes are beautifully drawn and there are a ton of interactive items. The Mini Games are numerous and entertaining, and most of the puzzles give you the option to play the game in either an Easy of Hard mode which is a feature I really like. I'm really liking what I'm seeing from this new game. We played Whispered Secrets: Forgotten Sins on the easiest difficulty mode, rarely skipped any puzzles, and completed the game in around four hours.
One of the best features of Whispered Secrets: Forgotten Sins is the superb drawing of characters and scenery. I don't like to give too much detail about the specific HOPS or puzzles because it is far more fun to discover for yourself what a game holds in store for you. First of all, the landscapes and sceneries in this installment is mesmerizing; filled with exotic locations and interestingly-designed themes. The Hidden Object Scenes are varied, with finding Keywords in a Sentence etc.
My reviews are based only on what I happen to enjoy in gaming and you might like something different so, as always, please try the demo to see if you might enjoy this amazing game. Each game in this series has a little different story line and they have all been interesting. The story doesn't get a lot better as you play, you have cliche over cliche with a few minor exceptions which I won't reveal in order not to spoil your experience, the story of the game seems uninspired and It really can't draw you in. As always, try if out for yourself and see what you think.
The hidden object segments and the puzzles during the demo, which was quite short by the way as I finished it in 42 minutes. The remaining extras are always found in CEs such as a bonus game, strategy guide, etc. In this Collector's Edition version, there's always the built in Strategy Guide to help you. I found this game surprisingly fun and interesting.
All in all I highly recommend this game. You truly do go on a nice little adventure. This game has fairly nice graphics, but could be a bit clearer. Game play was excellent. I Love this game and find it to be the perfect way to spend a rainy Saturday morning, in fact I had to pull myself away to finish my housework.
Whispered Secrets: Forgotten Sins - the Collector's Edition - comes with all the goodies one expects from one. We get easy to find Collectibles, wallpapers, art images and a bonus chapter. If you prefer the CE version of games the Whispered Secrets: Forgotten Sins has collectibles, artifacts and morphing objects to be found. The Mini Games are easy to medium in difficulty. The graphics are beautiful and, yes, icy but perfect for a cold and rainy day here in my town.
The Strategy Guide, of course, tells you where they are. But if you want an easy, funny game then this game is perfect for you. Map: The map tells where the player is and has the special mark when you have something to do there. All in all, I find Whispered Secrets: Forgotten Sins to be an excellent game and a must-have addition to my gaming library.
As always, I review mostly on the game play and leave the story to others to review.

(FREE trial version)