Web of Deceit: Deadly Sands Walkthrough 3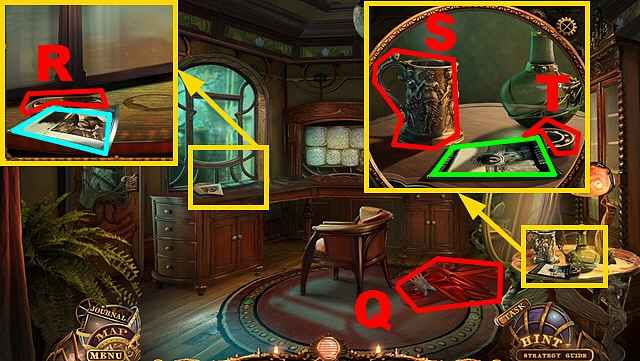 Follow our crystal clear walkthrough and helpful tricks to get you through the rough spots!
Click the button to download full walkthrough.
Take the CURTAIN (Q).
Take the page (blue) and the TAPE (R).
Take the HOT TEA (S), read the note (green), and take BEARING 2/2 (T).
Put down the HOT TEA (purple); read the code (U).
Remove three books (V); enter the correct code (W).
Take the ANALYZER (X), the movie reel (Y), and the SCREWDRIVER (Z).
Insert the TAPE into the slot (A).
Play the mini-game.
Solution (B). Turn the screens counterclockwise in the following order: 2, 2, 5, 6, 6, 6, 1.
Take the PARROT EMBLEM (green) and the SOLDERING IRON (blue).