Wanderlust: What Lies Beneath Collector's Edition Review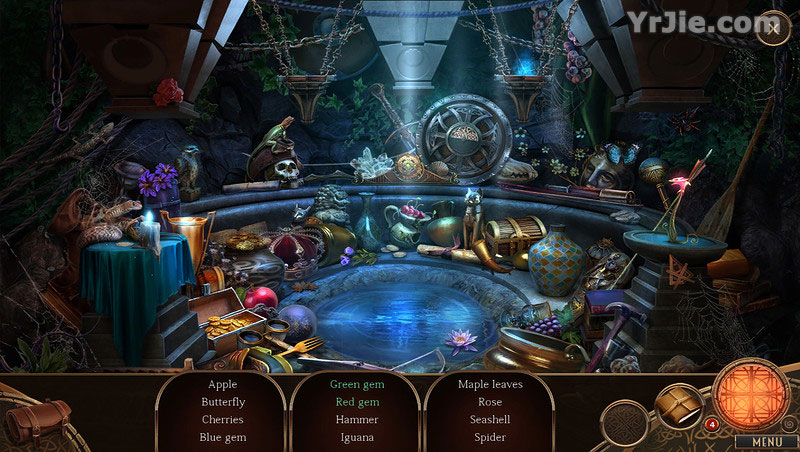 HOGS: There is a nice variety and I'm truly enjoying them. You're not bored with the same old same old. All in all, Wanderlust: What Lies Beneath is a good game. Not an amazing one. Voices are age and character appropriate, with emotion for a change. Also, developers are now offering a custom mode of gameplay and this one will allow you to set your hint and skip times to your preference.
One of the best features of Wanderlust: What Lies Beneath is the superb drawing of characters and scenery. Many of the scenes have puzzles incorporated as well as some interactivity when it comes to finding many of the items. This is the newest game in the Wanderlust series. The hidden object scenes and the puzzles are also quite standard.
In this Collector's Edition version, there's always the built in Strategy Guide to help you. Music: Fits the game just right. This time it doesn't get outright booming. Wanderlust: What Lies Beneath does not disappoint when it comes to length either. Playing on the easiest mode, we spent over six hours on the main game. The HOPS are excellent and varied with some being different than those normally seen.
Each game in this series has a little different story line and they have all been interesting. Wanderlust: What Lies Beneath is a must-have game for me. Not only is the game full of things to do, it is also beautiful and just what I have been looking for after all the dreary, colorless games that wrapped up in the past 3 months. I just don't get what's up with the cartoonish graphics. The graphics are excellent with good voiceovers but it is a bit odd that the lip-syncing seems to be a hit or miss sort of thing.
This Collector's Edition has 15 Morphing Objects within the HOP's, 9 Concept Art pictures, p Dev pictures, 9 Wallpapers, 11 Music Soundtracks, 14 Videos, a Souvenir Room, 18 Achievements to earn, 15 replayable Hidden Object Scenes, 20 replayable Mini Games, Collectible Characters, a built in Strategy Guide and a Bonus Adventure, enjoy! The Strategy Guide, of course, tells you where they are. I actually don't mind easy puzzles, as long as they are fun. Many of the scenes offer Panoramic views, where you can scroll further to the left or right in an attempt to make the player feel like they are actually there.
The hidden object scenes are nice but easy, just as the minigames and the entire game. It's just nice to have a fun and relaxing game to play. This is one of them. Map: The map tells where the player is and has the special mark when you have something to do there. There is a good jump map available, that shows where an available task is located,
Music wise, carries the mood of the game very well. My reviews are based only on what I happen to enjoy in gaming and you might like something different so, as always, please try the demo to see if you might enjoy this amazing game. I really got into the story when the demo ended. The Hidden Object Scenes are mostly Interactive List finds, the scenes are beautifully drawn and there are a ton of interactive items.
As always, I review mostly on the game play and leave the story to others to review.

(FREE trial version)