Twilight Phenomena: Strange Menagerie Walkthrough 2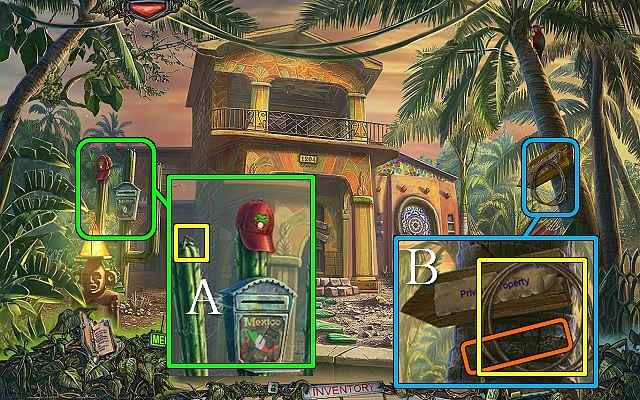 Follow our crystal clear walkthrough and helpful tricks to get you through the rough spots!
Click the button to download full walkthrough.
This is the official guide for Twilight Phenomena: Strange Menagerie Collector's Edition.
This guide will not mention each time you have to zoom into a location; the screenshots will show each zoom scene.
You can create a custom play mode using your preferred settings. The mode can be changed during the game.
We will use the acronym HOP for Hidden-object puzzles. Interactive items will be color-coded and some will be numbered; please follow the numbers in sequence.
The HOP lists are random; our lists may vary from yours.
Collectables are not shown in the screenshots, but are listed at the end of this walkthrough.
Move Mary's cap; take the CACTUS NEEDLE (A).
Take the LASSO; note the symbols (B).
Use the LASSO to get the CANE (C).
Take the ORANGE FIGURE (D).
Remove the boards with the CANE and take the TREE PENDANT (E); walk forward to the Lobby.
Talk to the doctor; drink some lemonade (F).
Take the SCALPEL (G).
Put the TREE PENDANT on the locked bag (H) and open the bag; take the STONE SHELL (I).
Walk down to the Yard.
Put the STONE SHELL on the fountain tile; push the tiles in numerical order and take the EYE (J).
Go inside.
Pick the back door lock with the CACTUS NEEDLE (K); walk forward to the Corridor.