Twilight Phenomena: Strange Menagerie Walkthrough 21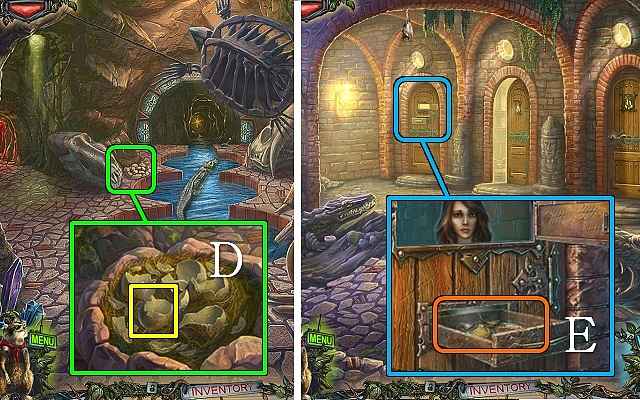 Follow our crystal clear walkthrough and helpful tricks to get you through the rough spots!
Click the button to download full walkthrough.
Release the baby crocodiles.
Take a CROCODILE EGG (D).
Go to the Catacombs.
Put the CROCODILE EGG, SNAKESKIN, COYOTE HAIR and JAGUAR CLAW in the drawer (E).
Go through to the Loading Bay.
Talk to Mary.
Take METAL BALL 2/2 (F).
Take the ROBOT (G).
Walk down.
Play the HOP.
Light puzzle (3): Ax3, Dx3, Ax3, B, C, E, F, Ax2, B, Ax4, Dx2, E, Dx4.
Push blue, red, green (7).
You receive TRIANGLE 2/2 (H).