Twilight Phenomena: Strange Menagerie Walkthrough 20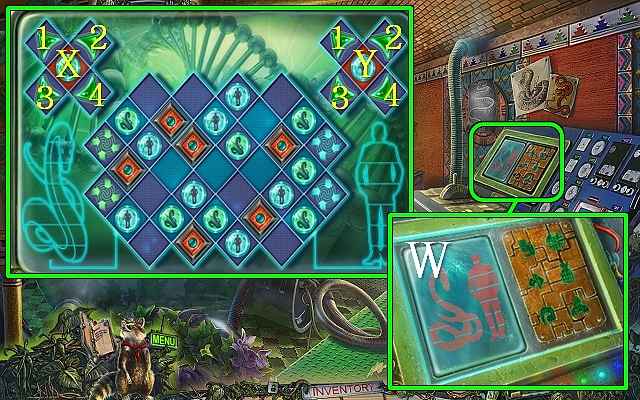 Follow our crystal clear walkthrough and helpful tricks to get you through the rough spots!
Click the button to download full walkthrough.
Put the BUTTON on the control panel; move all buttons to their correct places to access a mini-game (W).
Use the arrows to move the human tokens to the blue portals and the snakes to the green portals.
Solution: X3, Y4x3, Y2, Y4, Y2, X1x2, X4, X3x2, Y4x2, Y2x4, Y4x2, Y2, Y4x2, Y2x3, Y4x2, X1, X3x2, X1x2, X3, X1, X3, X1, X3x2, X1, Y1, Y2x2, Y4x2, Y2, X2, X1x3, X3x4, X1x2.
Talk to the woman; take TRIANGLE 1/2 and the SNAKESKIN (Z).
Go to the Sewer.
Put the HOT WATER BOTTLE on the eggs (A); zoom in to play a mini-game.
Place the heaters among the eggs so all eggs are warmed.
Casual (B) and hard (C) solutions are shown.