The Torment of Mont Triste Walkthrough 9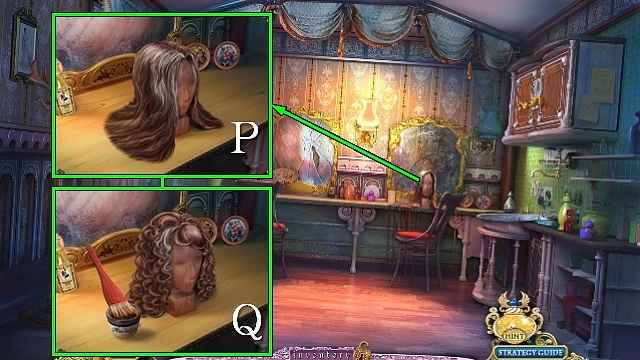 Follow our crystal clear walkthrough and helpful tricks to get you through the rough spots!
Click the button to download full walkthrough.
Give the TOY BALL to the fox and take the second GOLDEN CAMEO (M).
Go left.
Put the two GOLDEN CAMEOS on the cabinet (N); take the HAIR DYE (O).
Cut the wig with the MIRROR SHARD and brush it with the hair BRUSH (P); put down the HAIR DYE, use the small BRUSH to dye the wig and take the WIG (Q).
Walk down.
Put the WIG on the mannequin and take the LOCK DETAIL (R).
Go left.