The Torment of Mont Triste Walkthrough 3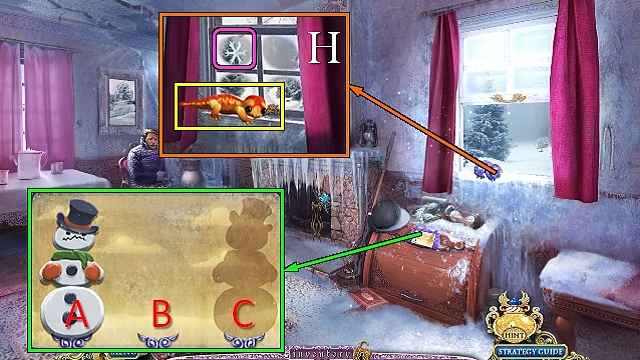 Follow our crystal clear walkthrough and helpful tricks to get you through the rough spots!
Click the button to download full walkthrough.
Take the ICE BUTTERFLY (F).
Pour the water into the mold and freeze it with the ICE BUTTERFLY; take the ICE FORM (G).
Close the window and put the ICE FORM in the hole; take the SALAMANDER (H).
Play the mini-game.
Move the snowman from left to right; you can only move one piece at a time and pieces can only be stacked on top of larger pieces.
Solution: A-C, A-B, C-B, A-C, B-A, B-C, A-C.
Play the HOP (I).
You receive the FIREWOOD.