The Torment of Mont Triste Walkthrough 10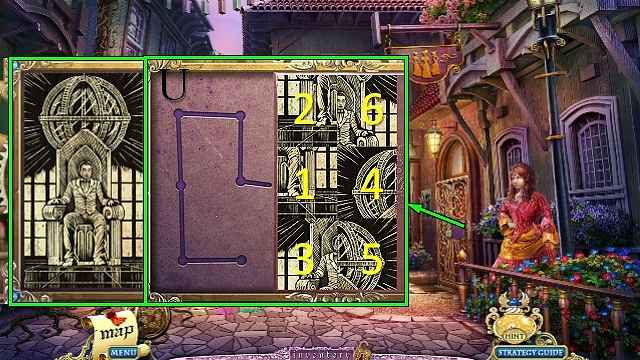 Follow our crystal clear walkthrough and helpful tricks to get you through the rough spots!
Click the button to download full walkthrough.
Put the LOCK DETAIL on the chest for a mini-game.
Use the arrows to scroll through the images to recreate the image on the left; push Check to check your choices (S).
Take the PUZZLE PART (T).
Walk down.
Put the black-and-white PUZZLE PART on the door for a mini-game.
Restore the scrambled image by selecting the tiles in the right order; the tiles will slide into place along the purple line (U).
Put the other PUZZLE PART on the lock for another mini-game.
Push the buttons to rotate groups of four tiles (V).
Solution: Bx2, Ax3, B, A, Cx2, Bx2, Cx2, B, C, B, Cx2.
Play the third mini-game.
Use the buttons to flip pairs of tiles to recreate the image (W).
Solution: 1, 2, 3, 4.
Go right into the Boutique.