Surface: The Pantheon Walkthrough 11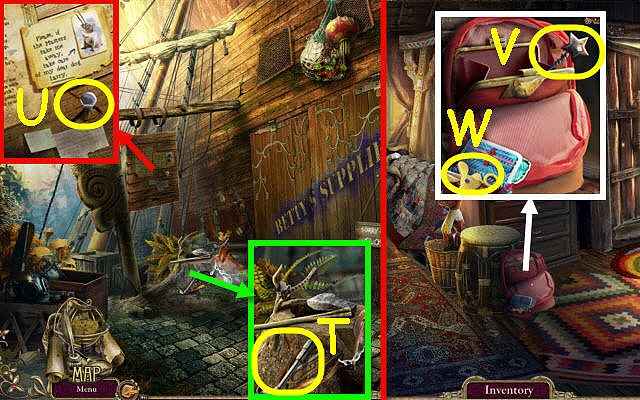 Follow our crystal clear walkthrough and helpful tricks to get you through the rough spots!
Click the button to download full walkthrough.
TAKE THE HEX KEY (T).
Use the HEX KEY on the bolt; take the BOLT (U).
Go to Hut.
Place the CAT EMBLEM on the clutch; take the WAND (V).
Place the SCISSORS HALF and BOLT on the scissors; take the CHILD'S SCISSORS (W).
Go to Square.
Use the CHILD'S SCISSORS to get the RIBBON (X).
Go to Supply store yard.
Use the RIBBON on the broken axe; take the STONE AXE (Y).
Back out and go up on the left.
Take the TURKEY BASTER (Z).
Use the STONE AXE on the spike; take the MAGNET FRAGMENT (A).
Go to the Supply store yard.
Use the MAGNET FRAGMENT on the panel to trigger a puzzle (B).