Surface: Reel Life Walkthrough 9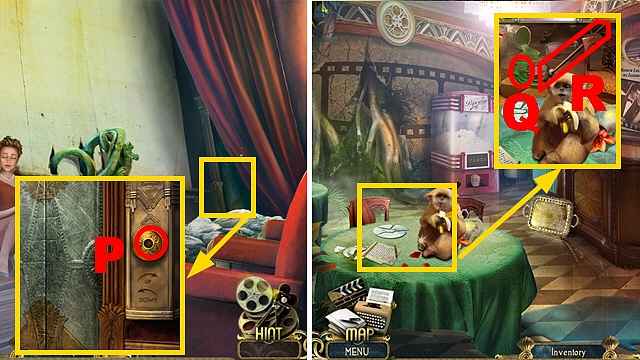 Follow our crystal clear walkthrough and helpful tricks to get you through the rough spots!
Click the button to download full walkthrough.
Place the ELEVATOR LEVER (P); pull it.
Go to the Snack Bar.
Use the PAINT THINNER (Q); take the MOP (R).
Go to the Projection Room.
Examine the poster (S).
Use the MOP (T); take the SILVER TRUMPET (U) and TORCH TIP (V).
Place the GOLDEN TRUMPET (W) and SILVER TRUMPET (X).
Play the mini-game.
Solution: Y, Zx3.
Take the MAGNET (A).
Use the MAGNET (B); take the PIN (C).
Walk down, turn left.
Remove the trapdoor; take the TORCH VALVE (D).
Use the PIN (E); take the SCREWDRIVER (F) and NIPPERS (G).
Walk down.