Surface: Reel Life Walkthrough 4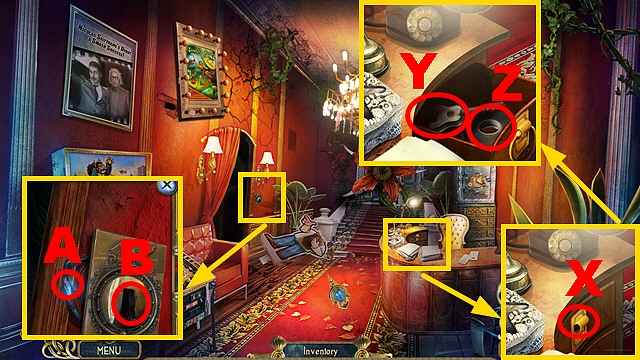 Follow our crystal clear walkthrough and helpful tricks to get you through the rough spots!
Click the button to download full walkthrough.
Place the DRAWER PULL (X); open the drawer.
Take the GUITAR (Y) and ELECTRICAL TAPE (Z).
Use the ELECTRICAL TAPE (A); turn the switch (B).
Turn left.
Take the FIRECRACKER (C); examine the note (D).
Use the FIRECRACKER (E); take the FOIL PACK (F).
Open the FOIL PACK; take the KNOB (G).
Walk down.
Take the POPCORN BOX (H).
Turn left.
Place the POPCORN BOX (I) and KNOB (J); turn the knob.
Take the CUPBOARD KEY (K) and LOCK PART (L).
Insert the CUPBOARD KEY (M); turn it.