Strange Discoveries: Aurora Peak Walkthrough 20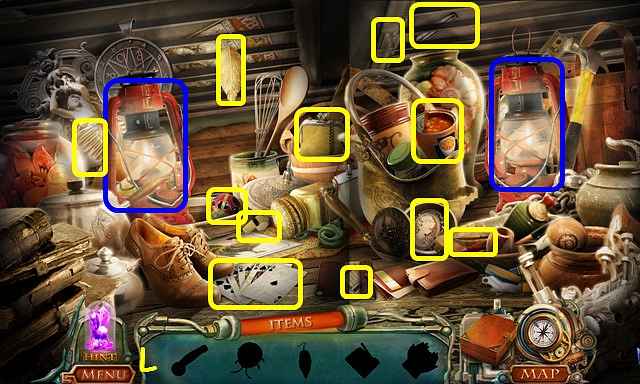 Follow our crystal clear walkthrough and helpful tricks to get you through the rough spots!
Click the button to download full walkthrough.
Look at the oil drum; use the EMPTY OIL CAN on the spout to get the FULL OIL CAN (I).
Look at the cage and place the FOX EMBLEM in the lock for a mini-game (J).
Move the chickens so they are not in any squares directly around a fox.
Select a chicken, then an arrow to move it in that direction; chickens will walk until they reach an obstacle.
Move the chickens in numerical order in the directions indicated (1-8).
Take the IRON PLATE (K).
Walk down, enter the house, and look under the bed for a HOP.
Locate all the items by their silhouettes (L).
Move the lantern back and forth to light the areas (blue).
You will earn the HANDLE.