Strange Discoveries: Aurora Peak Walkthrough 15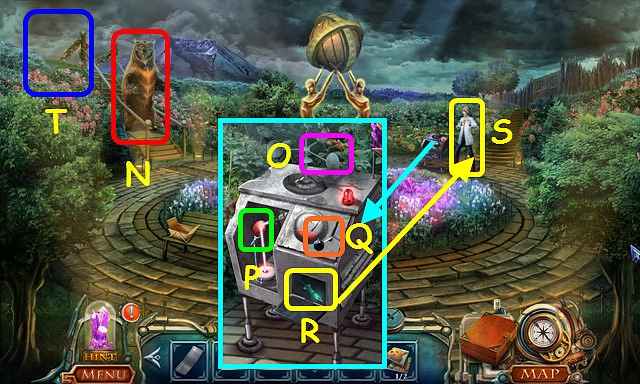 Follow our crystal clear walkthrough and helpful tricks to get you through the rough spots!
Click the button to download full walkthrough.
Give the HEALTHY CUB to the bear (N).
Look at the device, place the SPOON on the antenna, and place the TAPE on the spoon (O).
Zoom inside and place the GLASS JEWEL in the holder (P).
Pull the lever to start the device (Q).
Take the SPECIAL SERUM (R) and give it to Nicole (S).
Walk to the left (T).
Look at the boat and use the NET to take the 2/2 ANIMAL TILE (A).
Look at the tackle box and place the FISH EMBLEM in the lock (B).
Take the ANIMAL PICTURE and DRESSER KEY (C).
Walk down, go right, and look at the mini-game on the gate.
Place the ANIMAL PICTURE in the small square (D) and add the 2 ANIMAL TILES to the grid (E) to activate the mini-game.
Use the green buttons to rotate the tiles and restore them to match the animal picture.
Press the buttons in this order: Hx1, Fx2, Jx2, Hx2, Fx3, Hx1, Gx2, Ix2, Hx2, and Gx3.
Enter the Palisade gate.