Spirits of Mystery: The Silver Arrow Walkthrough 9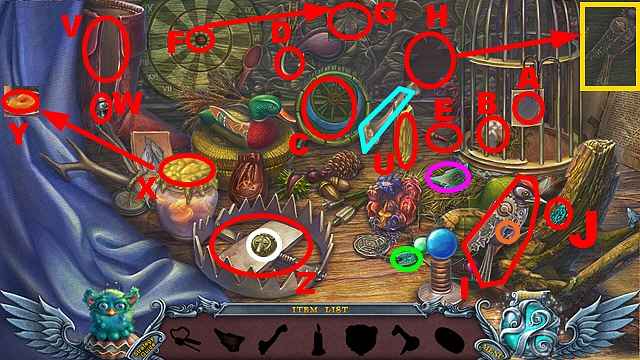 Follow our crystal clear walkthrough and helpful tricks to get you through the rough spots!
Click the button to download full walkthrough.
Light the candle (U) with the flint (green); take the lit candle.
Cut the boot (V) with the glass shard (purple).
Melt the wax with the lit candle (X); take the dried apricot (Y).
Put the bone (blue) into the trap (Z). Insert the bear medallion (white) into the slot (A).
Put the hamster (B) into the wheel (C); connect the dried apricot to the hook (D).
Throw the dart (E) at the dartboard (F).
Insert the chestnut key (G) into the slot (H); take the woodpecker (yellow).
Put down the woodpecker (I); insert the woodpecker key (W) into the lock (orange).
Take the TABLE ORNAMENT (J).
Take the CLUB (K) and note (L).
Walk down.
Insert the TABLE ORNAMENT into the niche (M); take the TERMITE KEY (N).
Go downstairs.
Insert the TERMITE KEY (purple); take the TERMITE TRAP (O) and CUTTING BOARD (P).
Walk down twice.
Put down the CUTTING BOARD (Q); touch the flower (R) and take the BREASTPLATE PIECE 1/3 (S).