Spirits of Mystery: The Silver Arrow Walkthrough 5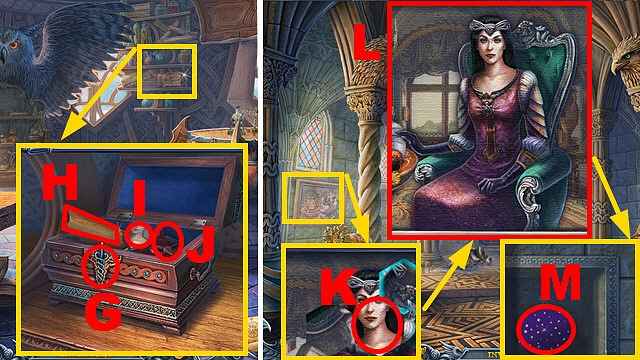 Follow our crystal clear walkthrough and helpful tricks to get you through the rough spots!
Click the button to download full walkthrough.
Insert the SYMBOL OF HEALING into the niche (G); take the recipe (H), PAINTING FRAGMENT (I), and BERRIES (J).
Walk down, move forward.
Insert the PAINTING FRAGMENT into the slot (K).
Play the mini-game.
Assemble the picture correctly (L).
Take the STARRY SKY (M).
Walk down.
Insert the STARRY SKY into the niche (N); take the FOUNTAIN PART (O) and BRUSH (P).
Walk down.
Connect the FOUNTAIN PART to the fountain (Q); put down the EMPTY CUP (R).
Play the mini-game.
Solution: 1, 2, 3, 2, 4, 5, 1, 3, 6, 3.
Take the CUP OF WATER (S).
Turn right.