Spirits of Mystery: The Silver Arrow Walkthrough 2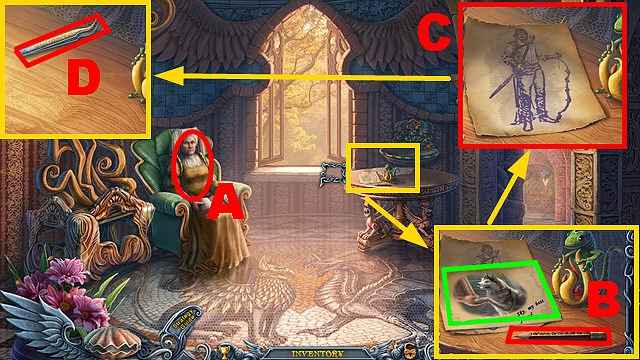 Follow our crystal clear walkthrough and helpful tricks to get you through the rough spots!
Click the button to download full walkthrough.
Talk to the woman (A).
Take the PENCIL (B) and note (green); use the PENCIL to complete the drawing (C), take the drawing and TWEEZERS (D).
Turn right.
Collect the SALAMANDER CREST with the TWEEZERS (E).
Turn right.
Take the GLOVE (F).
Eat the cake (G), drink the tea (purple); take the EMPTY CUP (H).
Walk down twice.
Take the book (I) and DRAGON HORN (J).
Connect the SALAMANDER CREST (K); take the FLAME FIGURINE (L).
Put down the EMPTY CUP (M).
Play the mini-game.