Spirits of Mystery: The Silver Arrow Walkthrough 14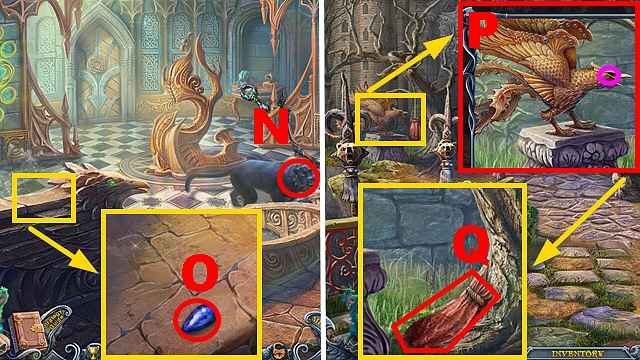 Follow our crystal clear walkthrough and helpful tricks to get you through the rough spots!
Click the button to download full walkthrough.
Look at the panther (N) to receive the ARROWS.
Take the PHOENIX EYE (O).
Walk down.
Insert the PHOENIX EYE into the slot (purple). Activate the phoenix; take the PHOENIX LIGHTER (P) and BAG (Q).
Walk down.
Connect the BAG to the sunflower (R); touch it and take the SEEDS.
Put down the GOURD BOWL (S), insert the SEEDS into the device (T); push the handle (U), take the BOWL OF OIL.
Move forward twice.
Put down the ARROWS (purple), BOWL OF OIL (green), FIBER (blue), and PHOENIX LIGHTER (V).
Put the fiber around the arrows, place them in the oil, activate the phoenix lighter, take the BURNING ARROWS.
Give the BURNING ARROWS to Philip (W).
Hit the stone with the MACE (X); take the CRACKED STONE and MOUSE AMULET (Y).
Walk down twice.
Give the CRACKED STONE to the animal (Z) and let Romas talk; take the OWL (A).
Move forward twice.