Spirits of Mystery: The Silver Arrow Walkthrough 13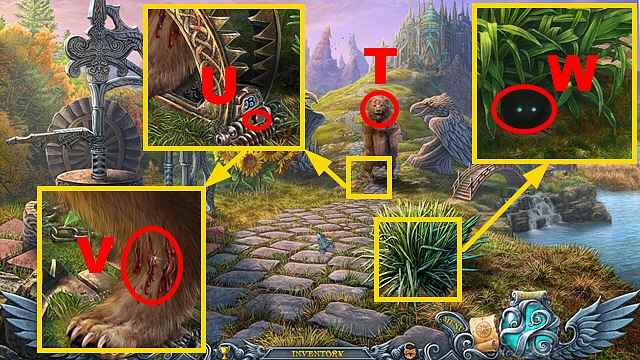 Follow our crystal clear walkthrough and helpful tricks to get you through the rough spots!
Click the button to download full walkthrough.
Throw the NET at the bear (T).
Insert the MONOGRAMMED KEY into the lock (U); use the NEEDLE AND THREAD and the HEALING SAP on the wound (V).
Remove the net; let Romas talk to the bear.
Let Romas talk (W).
Play the HOP.
Take the pliers (purple).
Move the branch aside (white).
Hit the nail (X) with the stone (green); take the handmade knife.
Put the watermelon (blue) on the stick (Y); use the handmade knife on it.
Use the pliers (purple) on the metal beam (orange).
Remove the cork (black) with the corkscrew-knight (A); take the wooden bead (brown).
Pour the jar of water (B) over the dirt (C); take the plank (D).
Insert the plank (D) and the wooden bead into the board; arrange the board correctly (E).
Put the 2 medallion pieces (Z) and (F) into the slot (G); take the GEM TRIANGLE (H).
Move forward.
Take the note (I) and MACE (J).
Cut the gourd with the SAW; take the GOURD BOWL (K).
Insert the GEM TRIANGLE into the slot (L).
Play the mini-game.
Solution (M).
Move forward.