Sea of Lies: Mutiny of the Heart Walkthrough 12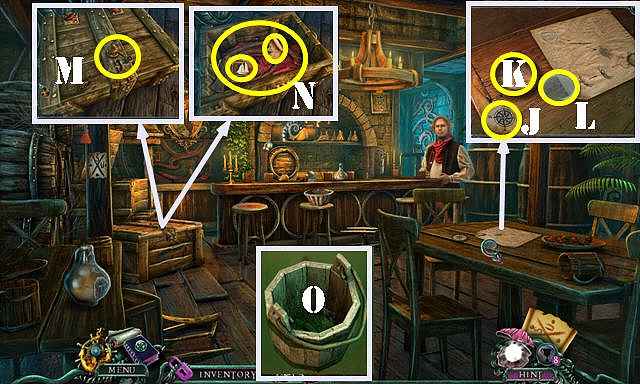 Follow our crystal clear walkthrough and helpful tricks to get you through the rough spots!
Click the button to download full walkthrough.
Touch the compass piece (J); place the COMPASS NEEDLE in it (K) and then touch the lens (L).
Take the COMPASS.
Use the OLIVE OIL on the handle (M) and then turn it.
Take the MAP PIECE 5/6, SCHOONER, and ROPE (N).
Use the ROPE on the BUCKET in inventory to get the BUCKET WITH ROPE (O).
Return to the Town Center.
Place the BUCKET WITH ROPE in the well. Take the ANCHOR (P).
Return to Town South.
Place the SCHOONER on the gate to activate a puzzle (Q).
Move the blocks in the direction of the arrows in this order: Red, Yellow, Green, Purple and White (1-4).
Go to the Town Docks.