Sable Maze: Norwich Caves Walkthrough 2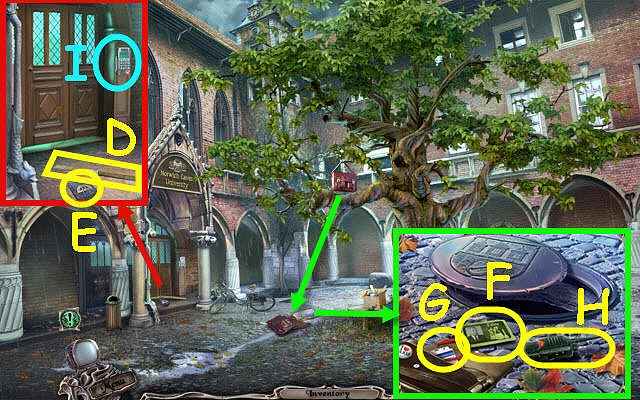 Follow our crystal clear walkthrough and helpful tricks to get you through the rough spots!
Click the button to download full walkthrough.
Speak to Diana; take the PHOTO FRAGMENT (A).
Examine the bench to access a HOP (B).
Play the HOP.
You receive a TAPE ROLL (C).
Use the TAPE ROLL on the yardstick; take the YARDSTICK (D) and MATHEMATICS SHIELD (E).
Use the YARDSTICK on the bag; take FABER'S CARD (F) and ID CARD (G).
Remove the manhole cover; select the walkie-talkie (H).
Use the ID CARD on the panel (I).
Enter the building.
Take the map (J), which will now be located on the bottom left of your toolbar.
Take the MEDICINE SHIELD (K).
Take the BUTTON (L).
Place the BUTTON in the left slot. Select it twice (M) and the right facing arrow (N) once.
Select the glowing area on the globe; take the LITERATURE SHIELD (O).
Back out.