Sable Maze: Norwich Caves Walkthrough 18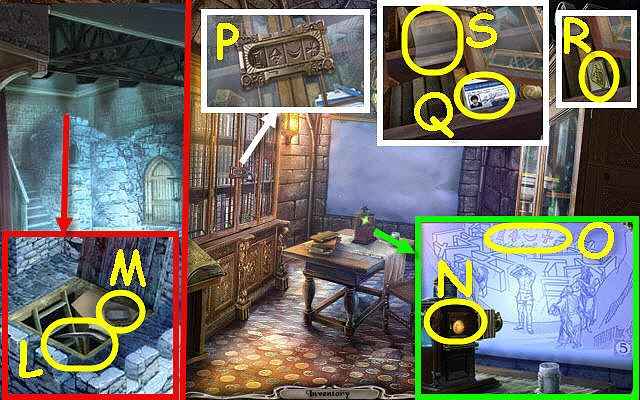 Follow our crystal clear walkthrough and helpful tricks to get you through the rough spots!
Click the button to download full walkthrough.
Place the RING on the latch. Open the hatch; take the CLIMBING PICK (L).
Open the book; take the SLIDE 5/5 (M).
Go to the Hidden Niche.
Open the side projector panel and place the LIGHT BULB inside (N).
Place the 5 SLIDES on it and select the button to scroll through the 5 slides; observe the code (O).
Enter the code from the slide on the cabinet lock (P).
Take the ID CARD (Q), TILE 2/7 (R) and TRACING PAPER (S).
Go to the Square.
Use the ID CARD in the slot of the door to trigger a puzzle (T).
Move the plate across all the cells.
Select the squares in the order listed (1-10).
Go through the door.
Take the TILE 3/7 (U).
Go forward through the door on the right.
Examine the chalkboard; take the TILE 4/7 (V).
Go through the door on the rear left.