Sable Maze: Forbidden Garden Walkthrough 8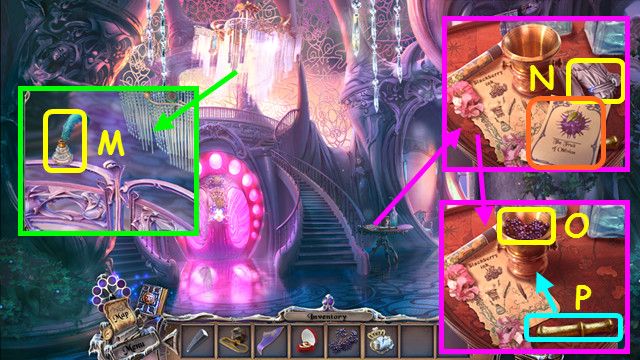 Follow our crystal clear walkthrough and helpful tricks to get you through the rough spots!
Click the button to download full walkthrough.
Take the EMPTY INKWELL (M).
Take the note and STATUETTE PART (N).
Place the BLACKBERRIES (O) and use the pestle in the mortar (P).
Use the EMPTY INKWELL on the mortar to take the INK.
Walk right.
Take the SCREWDRIVER (Q).
Take the PART OF STATUETTE (R).
Take the second THRONE-ROOM KEY (S).
Use the ERMINE to take the ROPE (T).
Walk down.
Use the ROPE on the chandelier; take the DIRTY SLIDE (A).
Combine the DIRTY SLIDE and FLAG PIECE to make the first SLIDE.
Walk down.
Play the HOP to earn the 3rd THRONE-ROOM KEY (B).
Walk left.