Riddles Of Fate: Wild Hunt Walkthrough 9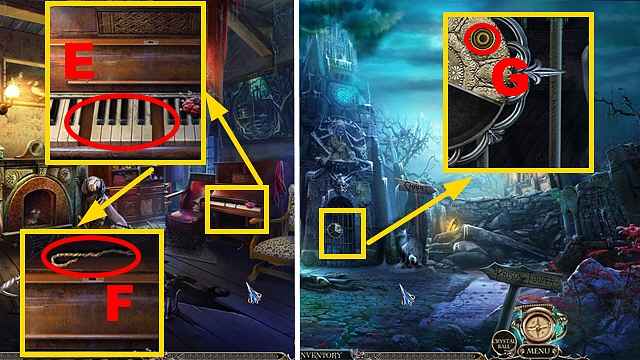 Follow our crystal clear walkthrough and helpful tricks to get you through the rough spots!
Click the button to download full walkthrough.
Insert the 2 PIANO KEYS into the gaps (E); take the WICK (F).
Go to the Tower.
Insert the GOLDEN KEY into the lock (G); turn it.
Talk to Death (H); you receive the MONOGRAM.
Walk down.
Insert the MONOGRAM into the niche (I); take the PRUNING SHEARS (J) and the DYNAMITE (K).
Go to the Tower.
Put down the DYNAMITE (L); insert the WICK into the dynamite, light the wick with the FLINT.
Move forward.
Zoom anywhere to receive the BOOK OF DEAD.
Go to the Archive.
Use the BOOK OF DEAD to acquire SPIRIT OF VENGEANCE 1/4 (M).
Go to the Bridge.