Riddles of Fate: Wild Hunt Walkthrough 15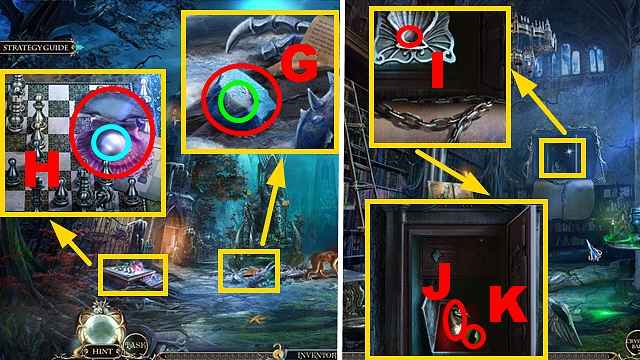 Follow our crystal clear walkthrough and helpful tricks to get you through the rough spots!
Click the button to download full walkthrough.
Zoom anywhere.
Melt the ice with the CANDLE (G); take the DRAGON'S CLAW (green).
Open the shell with the DRAGON'S CLAW (H); take the PEARL (blue).
Enter the Archive.
Insert the PEARL into the slot (I); take the KNIGHT (J) and EYE 1/2 (K).
Walk down.
Put down the KNIGHT (L).
Play the mini-game.
To solve this puzzle, remove all the chips from the board (M).
Remove chips by pairing two chips that are free on at least two sides.
Take the BONE (N).
Give the BONE to the dog (O).