Revived Legends: Road of the Kings Walkthrough 6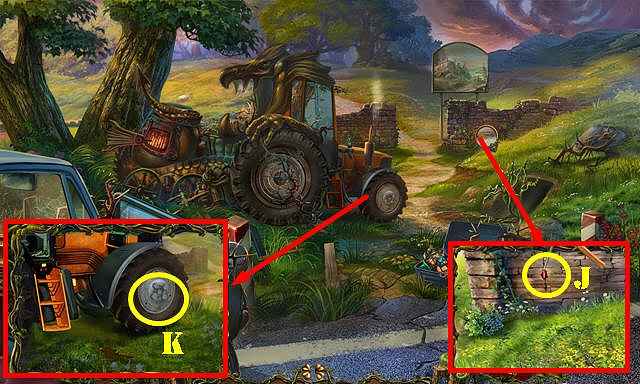 Follow our crystal clear walkthrough and helpful tricks to get you through the rough spots!
Click the button to download full walkthrough.
Use the CHISEL in the crack; use the HAMMER on the chisel and take the CRYSTAL 2/2 (J).
Remove the bolts with the LUG WRENCH; take the BOLTS (K).
Return to the Tomb.
Place the 2 CRYSTALS in the slot (L); take the EMPTY SHRINKING RUNE (M).
Return to the Gardens.
Place the 4 BOLTS on the wheel and use the LUG WRENCH on them (N). Take the WHEELBARROW.
Go forward.
Put down the WHEELBARROW; touch the EGG (O) and take it.
Walk down twice.
Remove the egg shell, put down the EGG STAND and place the EGG in it. Take the Fire Dragon and name it (P).
Return to the Tomb.
Use the Fire Dragon on the torch; take the BURNING TORCH (Q).
Return to the Gardens.