Revived Legends: Road of the Kings Walkthrough 5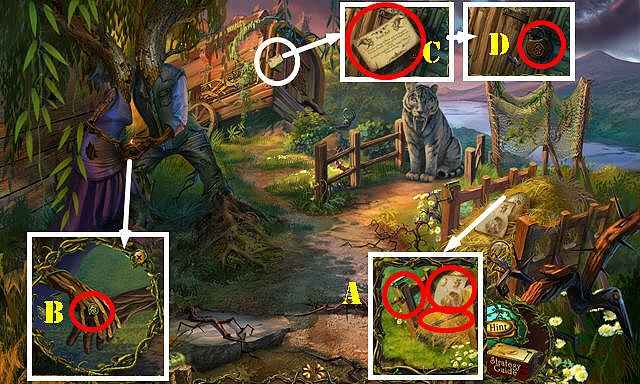 Follow our crystal clear walkthrough and helpful tricks to get you through the rough spots!
Click the button to download full walkthrough.
Take the LUG WRENCH, CRANK FOR NET, and Note (A).
Use the JAR WITH OIL on the ring; take the RING (B).
Read the Note (C). Use the RING on the lock to activate a HOP (D).
Play the HOP.
You receive the BANDAGE (E).
Walk down.
Place the BANDAGE over the wound (F).
Take the DRY ICE and CHISEL (G). Place the GARDEN-SHEARS HALF over the other one to get the GARDEN SHEARS (red).
Use the GARDEN SHEARS on the vines; take the Raccoon (H).
Use the Raccoon to get the CRYSTAL 1/2 (I).
Walk down.