Revived Legends: Road of the Kings Walkthrough 4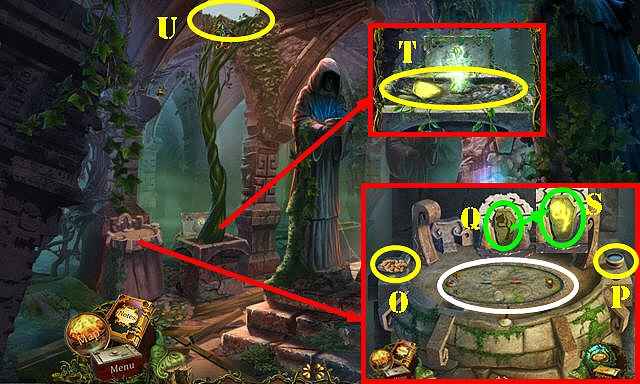 Follow our crystal clear walkthrough and helpful tricks to get you through the rough spots!
Click the button to download full walkthrough.
Place the BAG OF SEEDS and JAR OF WATER in the bowls (O and P). You receive the EMPTY JAR.
Place the EMPTY GROWTH RUNE in the slot (Q) and zoom into the puzzle.
Drag the colored lights from the glowing sphere to the dragon.
Solution (R).
Take the CHARGED GROWTH RUNE (S).
Use the CHARGED GROWTH RUNE on the vines (T).
Go through the ceiling (U).
Use the EMPTY JAR on the oil; take the JAR WITH OIL (V).
Go forward (W) to the Gardens.
Talk to the tree and then give it the DOUGHNUT (X).
Take the GARDEN-SHEARS HALF (Y) and EGG STAND (Z).
Go forward.