Redemption Cemetery: Bitter Frost Walkthrough 11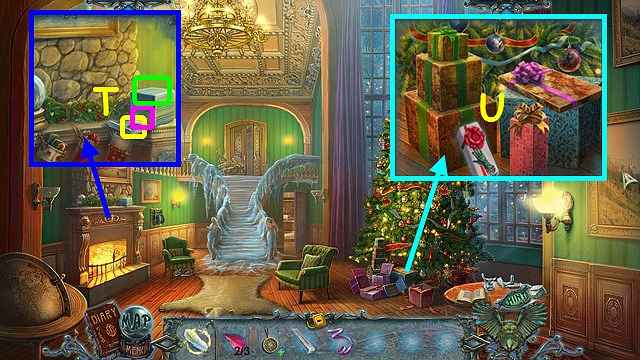 Follow our crystal clear walkthrough and helpful tricks to get you through the rough spots!
Click the button to download full walkthrough.
Place the RIBBON on the box; take the story part and the 2nd DREAM CATCHER HALF (T).
Combine the 2 DREAM CATCHER HALVES in your inventory to make the DREAM CATCHER.
Touch the gifts, replace them under the tree, and then select the gifts (U).
Use the DREAM CATCHER on the gifts to play the HOP (V).
Place the items on the matching silhouettes.
Open the gift and take the BOOT LACES (W).
Use the MAGIC FEATHER on the BOOT LACES in your inventory to make the ROPE.
Use the ROPE on the fallen chandelier (X).
Go up the stairs (Y).