Queen's Tales: The Beast and the Nightingale Walkthrough 8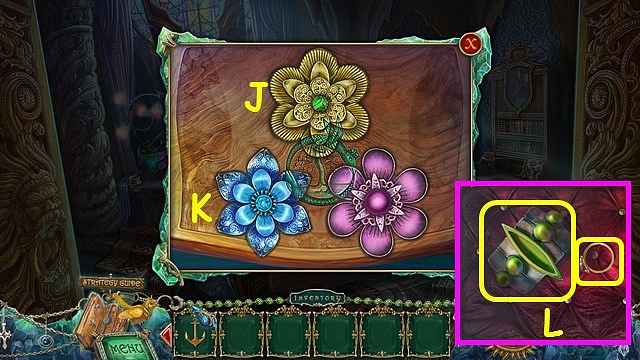 Follow our crystal clear walkthrough and helpful tricks to get you through the rough spots!
Click the button to download full walkthrough.
Place the 2 FLOWERS on the box.
Rotate the flowers to move the petals to complete the design in the center.
Select Jx4 and Kx2.
Take the BRACELET and take the ring to travel (L).
Take the MAP and the OCTOPUS (A).
The MAP is now available in your menu bar (B).
Take the PUZZLE PART (C).
Select the bubble for a message, and then take the clock (D).
The clock will now appear in the upper right corner (E).
Walk forward.
Take the SKATE (F).
Take the 1/2 DRAGONFLY HALF (G).
Talk to the Weepie (H).
Walk to the right.
Place the ANCHOR on the crab's hat; take the 2/3 PUZZLE PART and the LIZARD (I).
Take the 3/3 PUZZLE PART (J).
Walk down.