Queen's Tales: The Beast and the Nightingale Walkthrough 7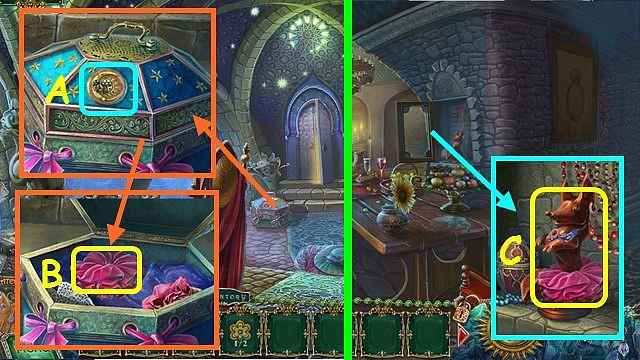 Follow our crystal clear walkthrough and helpful tricks to get you through the rough spots!
Click the button to download full walkthrough.
Place the MOON and SUN on the lid (A).
Open the box; move items to find the SKIRT (B).
Walk forward.
Place the SKIRT on it and take the FOX (C).
Walk left.
Place the FOX on the bedpost (D).
Take the SEALED SCROLL (E).
Select the cup on the nightstand (F).
Play the HOP to earn the 2/2 FLOWER (G).
Walk down.
Use the SEALED SCROLL on the candle to get the CODE (H).
Walk left.
Place the CODE in the center and select the symbols in order (1-6).
Select the box (I).