Queen's Tales: The Beast and the Nightingale Walkthrough 15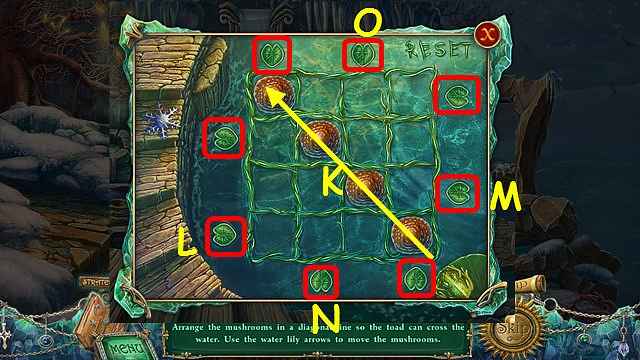 Follow our crystal clear walkthrough and helpful tricks to get you through the rough spots!
Click the button to download full walkthrough.
Use the water lily buttons (red) to move the mushrooms into a diagonal line (K).
Press the buttons Lx2, Mx2, Nx1, and Ox1.
Use the NIGHTINGALE on the plant and take the BERRY (A).
Use the WEEPIE on the ice, and then give the CHILI to the Weepie (B).
Take the 1/2 FISH and the WEEPIE (C).
Walk down.
Give the BERRY to the animal (F).
Take the POCKET WATCH (G).
Use the ROPE on the hook to make the GRAPPLING HOOK (H).
Walk up the stairs.