Punished Talents: Seven Muses Walkthrough 8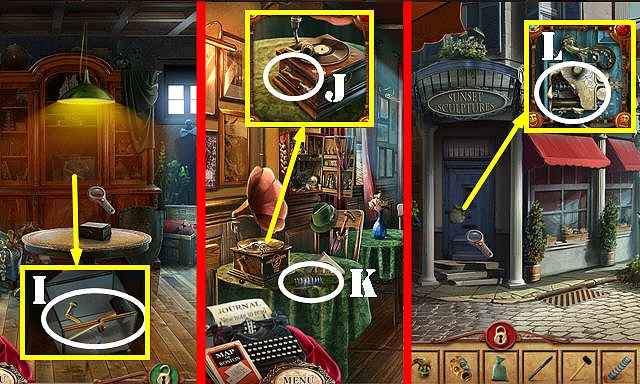 Follow our crystal clear walkthrough and helpful tricks to get you through the rough spots!
Click the button to download full walkthrough.
Use the THEATER SYMBOL in the slot; take the SLEDGEHAMMER and GRAMOPHONE HANDLE (I).
Return to the Cafe.
Place the GRAMOPHONE HANDLE on the gramophone (J); take the SPRING (K).
Return to the Music Block.
Use the CHISEL on the plaster and the SLEDGEHAMMER on the chisel. Place the SPRING in the mechanism (L) and go through the door.
Use the SLEDGEHAMMER on the sculptor (M). Talk to him and take the BOX LOCK (N).
Take the CLAY (O), PINCERS (P) and the Note (Q).
Touch the book to activate a puzzle (R).
Fold the paper in the right order (1-8). Nine shows the final image.
Take the COIN 3/4 (S).
Return to the Boulevard.