Punished Talents: Seven Muses Walkthrough 7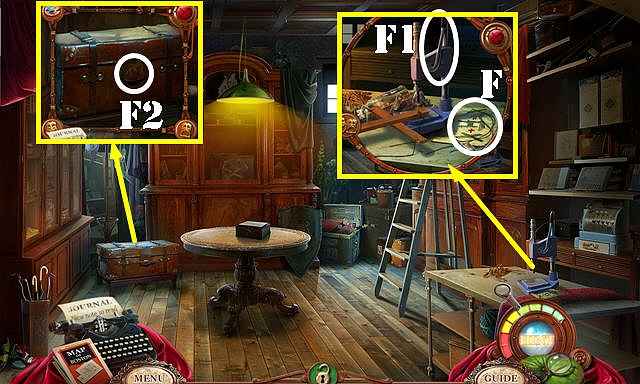 Follow our crystal clear walkthrough and helpful tricks to get you through the rough spots!
Click the button to download full walkthrough.
Put down the OPERATING CROSS, STRINGS and the PUPPET BODY.
Add the strings (F) to the cross and touch the machine (F1). Repeat these steps 3 more times. Take the PUPPET.
Place the ZEBRA FIGURINE in the slot to activate a HOP (F2).
Play the HOP.
You receive the CHISEL (G).
Walk down.
Place the 3 PUPPETS on the stage to activate a puzzle.
Round One: 3, 2, 6.
Round Two: 1, 2, 6, 5, 4, 5.
Round Three: 3, 4, 5, 7.
Take the THEATER SYMBOL (H).
Return to the Shop.