Otherworld: Shades of Fall Walkthrough 2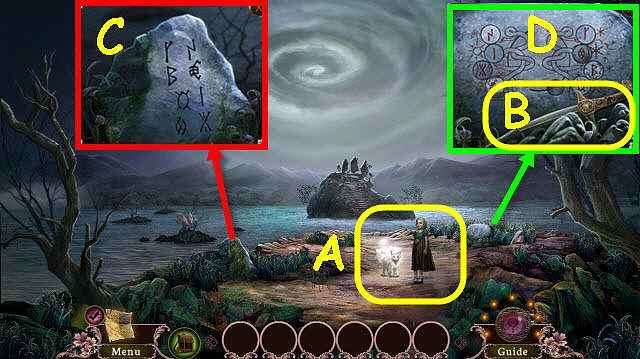 Follow our crystal clear walkthrough and helpful tricks to get you through the rough spots!
Click the button to download full walkthrough.
Speak to the cat and Fiona (A).
Take the DAGGER (B).
Use the DAGGER on the rock 3x (C); select the runes to get a RUNE INSCRIPTION.
Examine the rock to trigger a puzzle (D).
Swap the runes to arrange them per the RUNE INSCRIPTION.
See screenshot for solution (E).
Go forward.
Speak to the cat (F).
Take the SCARF (G).
Back out.
Use the SCARF in the water; receive a WET SCARF (H).
Go forward.
Use the WET SCARF 3x on the sarcophagus to trigger a HOP (I).