Nightmares From The Deep: Davy Jones Walkthrough 8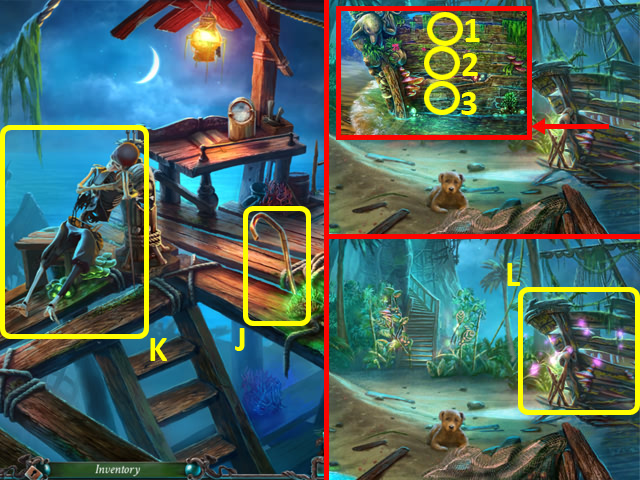 Follow our crystal clear walkthrough and helpful tricks to get you through the rough spots!
Click the button to download full walkthrough.
Grab the STEEL ROD (J).
Talk to the pirate (K).
Back out.
Use the STEEL ROD on the planks (1-3).
Examine the boat to access a HOP (L).
Move the items; use the drawer handle (M) on the drawer and take the stove cover (N).
Place the stove cover on the stove and rotate them (N1).
Move the ash; grab the frying pan (O).
Hang the frying pan; swap them as shown (O1).
Use the rag (P1) on the lantern (P2); drag it to clean the lantern.
Insert the puzzle piece (Q1) into the puzzle; complete the picture (Q2).
Open the cupboard; take the anchor (R).
Place the anchor on the box; take the corkscrew (S).
Use the corkscrew on the oil bottle (T1); take it.
Use the oil bottle on the lantern (T2); open it and take the WOODEN TONGS (U).
Use the WOODEN TONGS to grab the SCISSORS (V).
Use the SCISSORS on the net (W); grab the DOUBLOON (X).
Place the DOUBLOON into the guardian's hand (Y); take the FALLING STAR (Z).
Take the SPYGLASS (A).
Walk up, and give the SPYGLASS to the pirate; talk to him to trigger a puzzle.