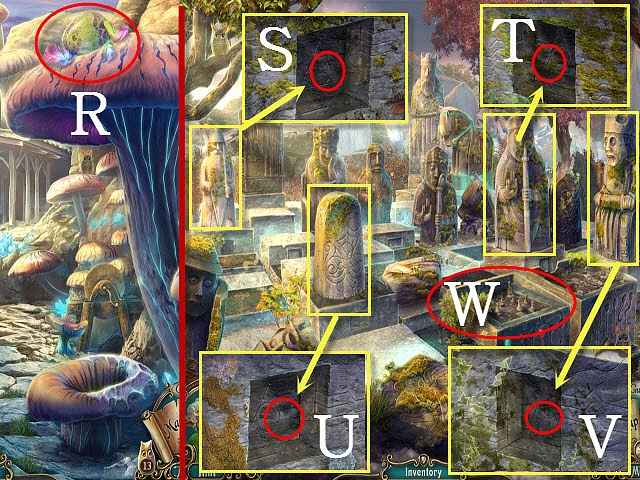 Follow our crystal clear walkthrough and helpful tricks to get you through the rough spots!
Click the button to download full walkthrough.
Use the WEB THREAD on the egg to get the PHOENIX EGG (R).
Return to the Courtyard; walk right to the Chessboard.
Examine the statues; place the FLOATING STONE (S), the 2nd FLOATING STONE (T), the 3rd FLOATING STONE (U), and the 4th FLOATING STONE in the spaces (V).
Examine the chessboard to activate a puzzle (W).
To solve the puzzle, move the chess pieces to their matching colored circles on the board. The pieces may be moved according to chess rules.
Please see the screenshot for the solution; 1-5 (X).
Examine the king; take the GOLDEN CROWN (Y) and the 2nd CELLAR RIVET (Z).
Return to the Fountain.
Examine the statues; place the BRONZE CROWN (A) and the GOLDEN CROWN (B) on them.
Take the SCEPTER BALL (C).
Walk down; examine the archway to activate a HOP.