Myths of the World: Stolen Spring Walkthrough 5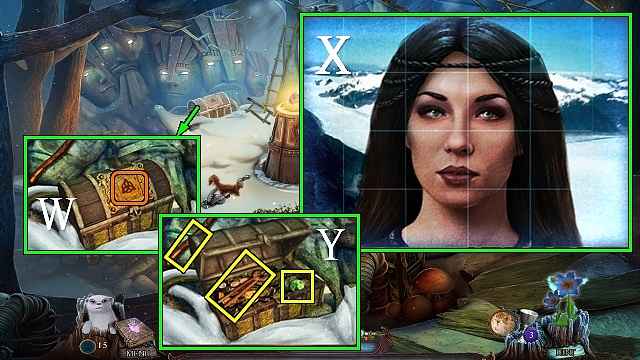 Follow our crystal clear walkthrough and helpful tricks to get you through the rough spots!
Click the button to download full walkthrough.
Put the GARDEN CHEST PIECE on the lock and open the chest for a mini-game (W).
Rotate the tiles to complete the image (X).
Take the FIREPLACE TONGS, GEMSTONE 3/5 and the STICK (Y).
Play the HOP (Z).
You receive the EDIBLE MUSHROOMS.
Go down and left.
Hang the CAULDRON FULL over the fire; put the EDIBLE MUSHROOMS in the cauldron to receive the MUSHROOM SOUP (A).
Take the STICK and give it to the ermine; you receive a SCREWDRIVER.
Remove both screws with the SCREWDRIVER (B), take the box and remove the DOOR KNOCKER (C).
Put the DOOR KNOCKER on the door (D).
Walk forward.