Myths Of The World: Chinese Healer Walkthrough 21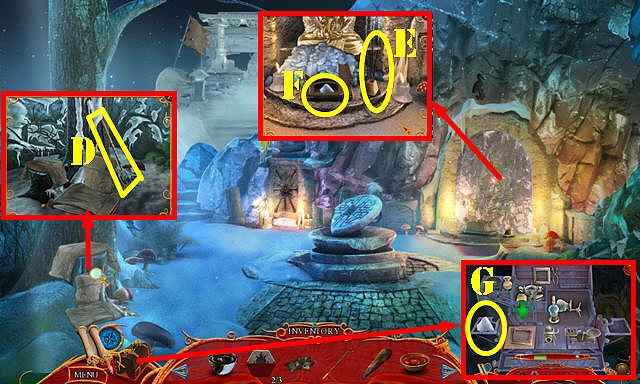 Follow our crystal clear walkthrough and helpful tricks to get you through the rough spots!
Click the button to download full walkthrough.
Zoom into the door and place the ORB in the hand (5).
Rotate the dials until the sun between them matches the designated numbers.
To solve the puzzle, select the orbs in this order: Ax5, Bx4, and Cx7.
Go to the Foot of the Mountain.
Zoom into the base of the tree; take the PITCHFORK (D).
Zoom into the ice and break it with the CLUB. Place the INCENSE STICKS in the holder (E) and take the WHITE POWDER (F).
Open the Healer's Kit and put down the WHITE POWDER (G).
Touch the item the arrow is pointing to when the ball is on the green line.
You will receive the WHITE PAINT.
Return to the Troll's Cave.
Zoom into the fresco; put down the BLACK PAINT, the FINE BRUSH, the WHITE PAINT, and the RED PAINT to activate a puzzle.
Dip the brush in the paint and then color the desired area according to the clue on the paper.
Please look at the screenshot for the solution (H). Don't forget to paint the tongue red.
Take the CLIFF ELEMENT 3/3 (@).
Return to the Foot of the Mountain.