Mystery Trackers: Raincliff's Phantoms Walkthrough 4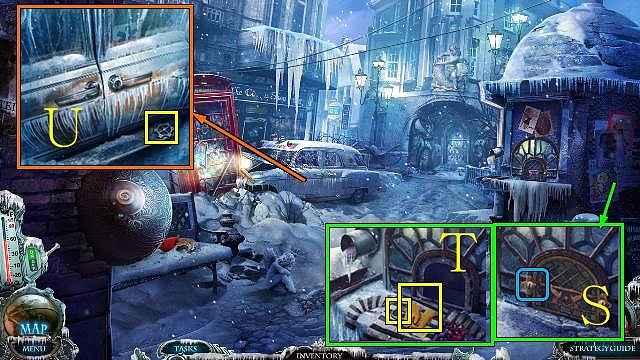 Follow our crystal clear walkthrough and helpful tricks to get you through the rough spots!
Click the button to download full walkthrough.
Remove the screws with your SCREWDRIVER and send ELF through the window to retrieve the items (S); take the GLOVES and HANDCUFFS (T).
Take the GEAR (U).
Walk forward.
Take the CROWBAR with the GLOVES; take the GEAR (V).
Walk down.
Remove the COPPER BALL with the CROWBAR (W).
Walk forward.
Put the COPPER BALL on the left statue (X).
Send ELF through the gate (Y); take the VIDEO CAMERA and tape (Z).
Walk down twice.