Mystery Case Files: Fate's Carnival Walkthrough 8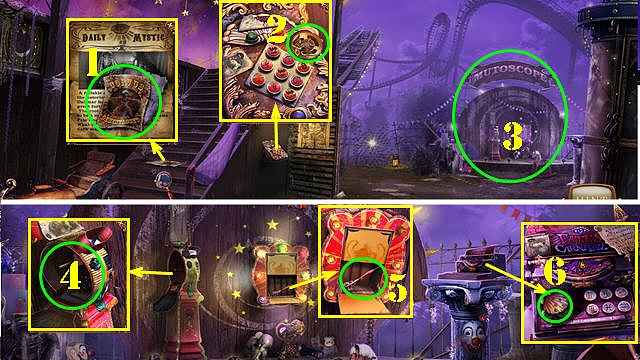 Follow our crystal clear walkthrough and helpful tricks to get you through the rough spots!
Click the button to download full walkthrough.
Take the Black Diary Page (1) and look at the Black Diary.
Grab the GEAR (2).
Go forward to the Mutoscope (3).
Open the cover and place the MUTOSCOPE REEL in it (4); take the DART (5).
Take the CLAM SHELL (6).
Return to Outside Tent.
Throw the DART at the target (7); take the OIL CAN (8).
Go into Larry's Tent.
Remove the rusty gear (9); place the 2 GEARS on the puzzle; use the OIL CAN on the large gear (A) to activate a puzzle.
Place the gears in the right spots so they all spin.
Solution: F, H, D, G, H, A, B, C, B, F, E, and A.