Mystery Case Files: Fate's Carnival Walkthrough 4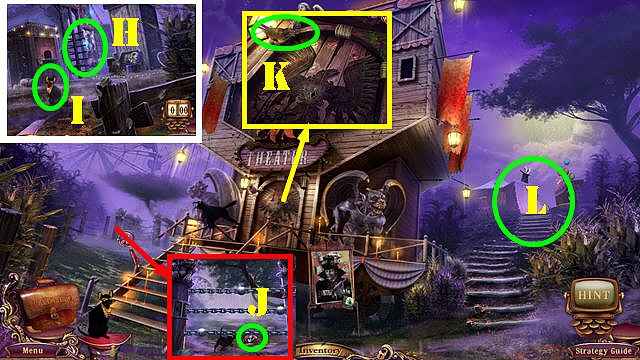 Follow our crystal clear walkthrough and helpful tricks to get you through the rough spots!
Click the button to download full walkthrough.
Try to go through the gate (H).
Take Isis (I).
Go through the gate (H).
Use Isis under the fence to get the COMEDY mask (J).
Take the MECHANICAL BIRD (K).
Go to Outside Tent (L).
Take the KNIFE HANDLE (M).
Walk down.
Place the KNIFE HANDLE on the blade; take the KNIFE (N).
Return to Outside Tent.
Cut the rope with the KNIFE (O); enter Larry's Tent.
Touch anywhere on the scene.
Take the RAVEN CHARM (P), WINDUP HANDLE (Q), and MUTOSCOPE FILM (R).
Use Isis on the bat (S); take the TRAGEDY mask (S1).
Walk down.