Mystery Case Files: Fate's Carnival Walkthrough 3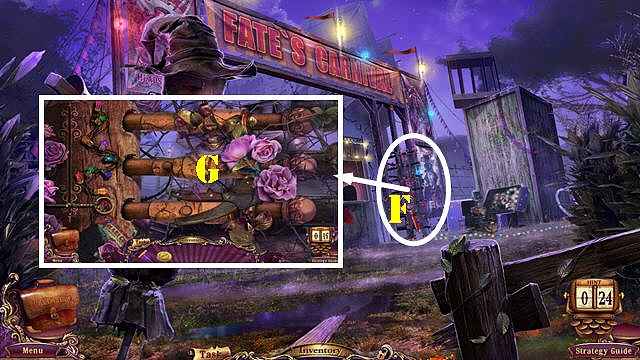 Follow our crystal clear walkthrough and helpful tricks to get you through the rough spots!
Click the button to download full walkthrough.
Touch the raven (A).
Open the coat; take the BRONZE KEY (B).
Take the GAME COIN (C).
Examine the chest; take the CORKSCREW (D). Insert the BRONZE KEY into the lock and turn it to activate a HOP.
Play the HOP.
You receive the PRUNING SHEARS (E).
Zoom into the gate (F).
Use the PRUNING SHEARS on the vines to activate a puzzle (G).
Slide the pieces back and forth and press on the numbers in numerical order.
Solution (1-10).