Mystery Case Files: Fate's Carnival Walkthrough 15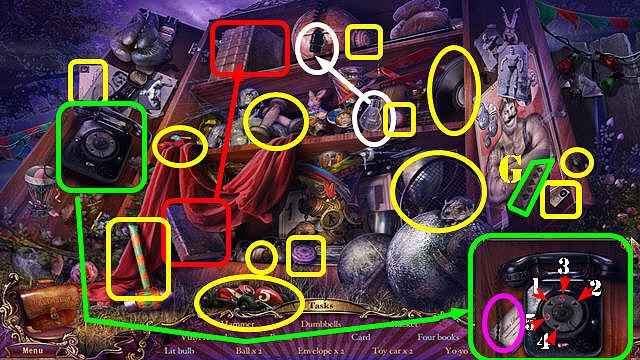 Follow our crystal clear walkthrough and helpful tricks to get you through the rough spots!
Click the button to download full walkthrough.
Play the HOP.
Touch the poster to reveal a code (G); touch the code and dial it on the phone (1-5). Take the card (purple).
You receive the MIDDLE HAMMER.
Return to the Slot Machines.
Use the MIDDLE HAMMER on the device (H); take the DOOR RING (I).
Return to the Crossroads.
Place the 2 DOOR RINGS on the gate; pull the rings and go forward (J).
Touch anywhere for a cut scene.
Look at the newspaper (K).
Take the BUTTON (L), GAME COIN (M), and HORSESHOE AMULET (N).
Use Isis in the tree hole (yellow); take the MECHANICAL BIRD (O).
Place the 2 MECHANICAL BIRDS in the cage (P).
Touch the birds; take the CARROT and the LEVER (Q).
Return to the Slot Machines.