Legends of the East: The Cobra's Eye Walkthrough 11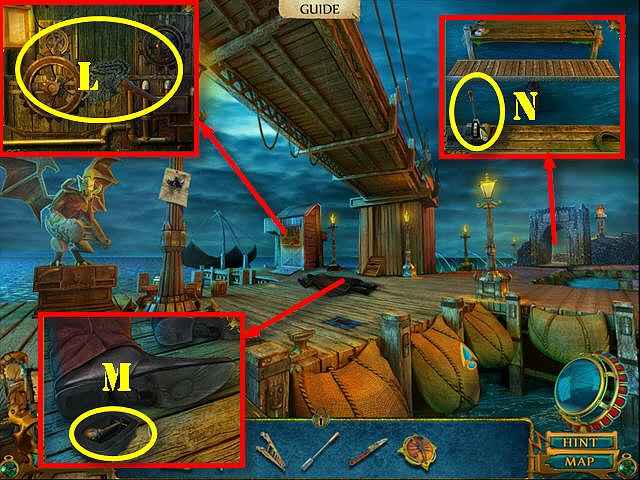 Follow our crystal clear walkthrough and helpful tricks to get you through the rough spots!
Click the button to download full walkthrough.
Zoom into the contraption; place the WOODEN GEARS and the CHAIN on it (L).
Speak with Antonio and then zoom into his shoe. Cut the heel with the KNIFE and take the HELMET KEY (M).
Zoom into the swing bridge and place the LEVER (N). Go forward to Scorpion Cove.
Zoom into the statue; put the PEGASUS in the slot (1) and take the HORSESHOE (2).
Zoom into the structure and take the HAMMER (3).
Return to Daniel's Chamber.
Zoom into the lock and place the HELMET KEY in it (4). Go down into Hull Lab.
Take the FISH FOOD (5).
Zoom into the doorway; take the PROJECTOR LENS 1/6 (6).
Read the note (7).
Zoom into the puzzle (8).
Move the ships marked in yellow (initial position) to the tagets marked on the corresponding red letters (A-O).
Take the OWL.
Return to the Grand Hall.