League of Light: Dark Omens Walkthrough 4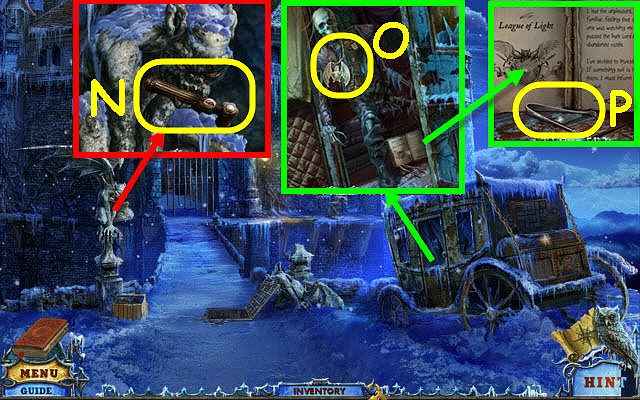 Follow our crystal clear walkthrough and helpful tricks to get you through the rough spots!
Click the button to download full walkthrough.
Examine the gargoyle and use the CANNONBALL on it; take the HANDLE (N).
Examine the carriage door and place the HANDLE on it; pull the handle. Take the BAT (O).
Zoom into the book; take the TONGS (P).
Go right on the ledge.
Examine the drain spout and use the TONGS to get the PUZZLE PART 2/2 (Q).
Back out.
Examine the trunk and place the 2 PUZZLE PARTS on it to trigger a puzzle (R).
Turn the squares to slide the handle to the open trunk.
See screenshot for solution (S).
Examine the opened trunk to access a HOP.