Hidden Expedition: Smithsonian Hope Diamond Walkthrough 7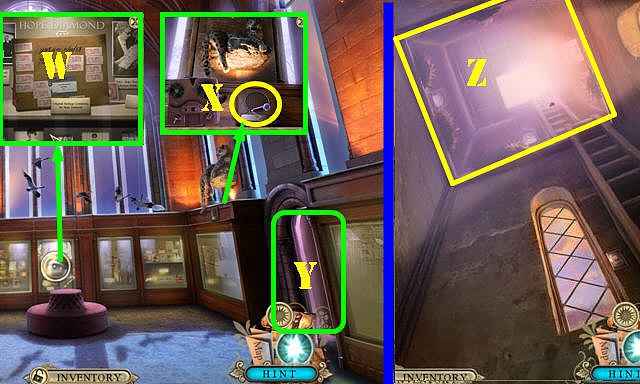 Follow our crystal clear walkthrough and helpful tricks to get you through the rough spots!
Click the button to download full walkthrough.
Look at the package (W).
Use the RECORDER WITH MIC on the speaker to get the RECORDED ROAR (X).
Go to the Owl tower base (Y).
Use the RECORDED ROAR on the owls. Go to the Owl tower top (Z).
Play the HOP (A).
You receive the FEATHERS.
Take the HAMMER AND CHISEL (B).
Use the SPYGLASS on the window; turn the tab in the direction of the arrows to focus the image (C).
Walk down.
Take the NICKEL (D).
Use the HAMMER AND CHISEL in the crack; take the SMITHSONIAN CYLINDER (E).
Walk down.